What's the ideal age for orthodontic treatment?
The American Association of Orthodontists (AAO) recommends that all children get a check-up with an orthodontist at the first recognition of the existence of an orthodontic problem, but no later than age 7. Few patients will need to begin treatment that young, but there are some who will benefit from early intervention. For these patients, treatment is likely to consist of guiding the growth of the jaws so that the permanent teeth are in good positions as they come in. However, orthodontic treatment is not exclusive to children and teens, with about one in every five orthodontic patients being over the age of 21. Whether you're considering treatment for yourself or for a child, any time is a good time to visit the orthodontist.
How long does treatment last?
The length of treatment will depend on the kind of problem an individual patient has. Simple cases may take only a few months to treat, while a complete bite correction can take a couple years.
How often will I have to see the orthodontist while I'm in treatment?
On average, you will see the orthodontist about every six to ten weeks during treatment. This allows the orthodontist make the changes needed to progress through treatment and also allows them to keep an eye on your treatment progress, and monitor the health of your teeth and gums.
How can I take care of my teeth if I'm wearing braces or a retainer?
ALWAYS remember to brush your teeth after every meal and floss at least once a day.
Make sure to use toothpaste that contains fluoride, and ask your orthodontist or family dentist if you need a fluoride rinse. This will help prevent cavities!
If you take out your retainer to eat, make sure you brush your teeth, floss, and remember to keep it safe in its container so that it does not get lost or broken.
Keep your retainer clean, too, by brushing it gently with a toothbrush and toothpaste. You may also soak it in denture cleaner as instructed by your orthodontist. Do not put your retainer in boiling water or in the dishwasher.
During your treatment, try to avoid foods with a lot of sugar, which increases the amount of bacteria that grows in your mouth, causing more plaque and possibly cavities.
Avoid sticky and chewy foods (caramel, chewing gum, gummy bears), hard foods (hard candy, nuts, ice cubes), or any foods that could possibly get stuck in your braces (corn on the cob, soft bagels, ribs, taffy, etc.).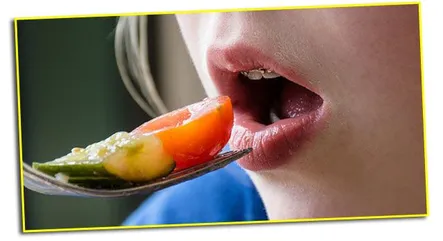 Do I need to change my oral hygiene routine during treatment?
Yes, keeping your teeth and braces (or other appliances) clean requires a little more effort on your part. Your orthodontist will explain how to brush and floss, how often to brush and floss, and give you any special instructions based on the kind of orthodontic treatment you are having. Be sure to follow your orthodontist's dental hygiene recommendations to get the best results possible. Check with your orthodontist about dental products and tools that might be helpful.
Also be sure to see your family dentist for a professional cleaning and check-up at least every six months during your orthodontic treatment, or more often, if recommended
Do braces hurt?
Braces do not often hurt though you may feel a small amount of discomfort for a couple days as your teeth, gums, cheeks, and mouth get used to your new braces.
Can I play musical instruments while wearing braces?
With practice and a period of adjustment, braces typically do not interfere with the playing of wind or brass instruments.
Talk to your orthodontist if you're having difficulty. They may be able to provide covers for your braces to help you play more naturally.
What is the advantage of two-phase orthodontic treatment?
Two-phase orthodontic treatment is a very specialized process that encompasses tooth straightening and physical, facial changes. The major advantage of a two-phase treatment is to maximize the opportunity to accomplish the ideal healthy, functional, esthetic result that will remain stable throughout your life.
The goal of first phase treatment is to develop the jaw size in order to accommodate all the permanent teeth and to relate the upper and lower jaws to each other. Children sometimes exhibit early signs of jaw problems as they grow and develop. An upper and lower jaw that is growing too much or not enough can be recognized at an early age. If children after age 6 are found to have this jaw discrepancy, they are candidates for early orthodontic treatment.
What if I put off treatment?
The disadvantage of waiting for complete eruption of permanent teeth and having only one phase of treatment for someone with a jaw discrepancy is facing the possibility of a compromised result that may not be stable.