What is a Veneer?
Veneers, which have revolutionized aesthetic dentistry, are capable of camouflaging everything from slightly crooked teeth to gaps, chips, discoloration and even poorly shaped teeth. These thin porcelain shells are permanently bonded to the fronts of your teeth to enhance and/or improve your smile. Veneers are versatile and requires minimal preparation. Many of the perfect smiles you see on celebrities are usually the result of veneers.
Veneers can make your smile look ten years younger and create a drastic change in your overall appearance.

What is Teeth Whitening?
A relatively quick and easy procedure. At our office, professional teeth whitening can take your smile from drab to fab in under an hour. GLO at our office with a fast professional treatment that gets your whitest, brightest smile, without pain!
The best results combine in office and take home whitening where you go home with the same devise used in the office. Along with professional strength whitening gel, you can continue whitening at home for the longest lasting, most stable results of 8 shades whiter.
Does your smile need a MAKEOVER?
How much work your smile needs will determine the best course of treatment for you. Something as effortless and painless as an in-office bleaching can make a dramatic difference for teeth that have begun experiencing signs of discoloration. Other times, crowns, caps, or veneers can help cover up or replace damaged teeth to help give you that perfect set or pearly whites. Or, if a full transformation is what it takes to improve your smile, we can work together to build a customized plan that will get you the results you want!
How do I hide Dental Flaws?
Dental Bonding helps conceal minor dental imperfections like small spaces, chips and dark stains. With bonding, colored resin over the nooks and crannies of your teeth, you get the look of a straighter, more balanced smile. Bonding can also lengthen the edge of your teeth to correct a short smile, or build out your back teeth to provide support for your cheekbones.
One of the quickest dental procedures available, tooth contouring addresses minor problems like slightly cracked teeth, uneven teeth, and crowded teeth. Contouring softens the curve of your teeth, making them appear rounded, youthful and straighter.
I usually recommend contouring to patients with a few problematic teeth that just need a little help in a very short period of time. With the tools in the office, teeth that look worn and flat can be transformed simply by contouring the edges, giving them a more natural, healthy look. Patients love that there is no recovery time and the results are instant. You'll walk out the door with a better smile!
What Is Grinding?
Problem…Bruxism / Solution…Night Guard.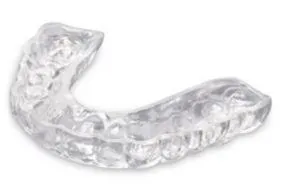 Bruxism is excessive grinding or clenching of the teeth that is beyond normal function like eating and talking. The results of this function is teeth may become sensitive, there may be a raising of the gum tissue and there may also be wear and fracture of the teeth. Along with this clinical evidence there may also be jaw pain and tiredness and headaches. A simple solution is to have a night guard made by your dentist and wear it on a regular basis. The guard is worn just on your lower teeth.
The process involves impressions of your upper and lower teeth and a relationship taken between your top and bottom teeth. Your night guard will be ready in a week or so and your protection will begin.